LA City Council Honors Anniversary of Armenian Genocide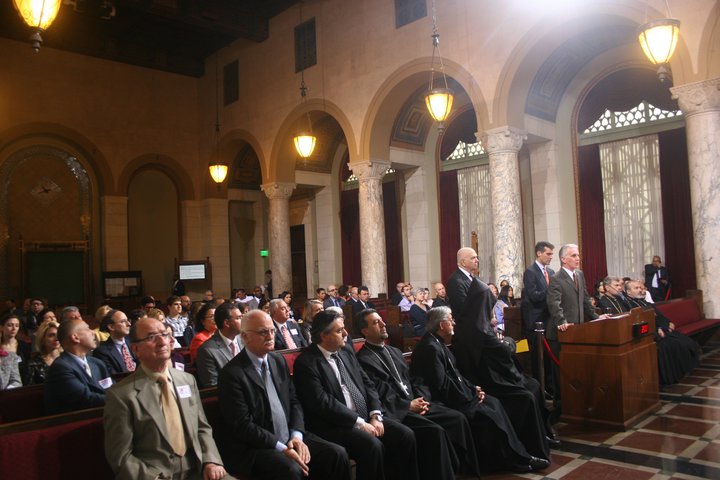 On Wednesday, April 20th, 2011, the Los Angeles City Council, led by Councilmember Paul Krekorian and Council President Eric Garcetti, commemorated the 96th anniversary of the Armenian Genocide. During the commemoration the Council also During a morning presentation, the Council also honor the legacy of UCLA Professor Richard G. Hovannisian, world-renowned author and one of the foremost experts of the Armenian Genocide.
"Today I join Los Angeles's Armenian American community in remembrance of the Armenian Genocide, during which 1.5 million Armenian men, women, and children lost their lives and 500,000 survivors were expelled from their homes," stated Council President Garcetti. "This year marks the 96th anniversary of the Armenian Genocide, and today we recognize those who have the courage and are working to ensure that it never be lived again."
Councilmember Krekorian expressed his pride in standing with his colleagues on the City Council to honor Professor Hovannisian. "Though he is a world-renowned scholar, Dr. Hovannisian's contributions are not just academic in nature. The insights he offers allow us to better understand our collective history and remind us all of the need to combat genocide and other human rights violations whenever and wherever they occur. The history of the 20th Century has shown the consequences of the world's failure to learn the lessons of genocide. Too often, we have seen that the world will continue to suffer genocide until we empathically reject hate in all of its forms and hold accountable the perpetrators of all crimes against humanity."
Among the varies Armenian American community leaders present were Mr. Kapriel Moloyan of the Armenian Council of America, and Mr. Harut Der-Tavitian of Massis Weekly.
"It is with great contentment that the City of Los Angeles chose to not only honor and remember those martyrs who perished in the Armenian Genocide, but to also commend and pay homage to the extraordinary legacy of Professor Hovannisian," said Mr. Moloyan
"Professor Hovannisian is a true example of the achievements that the Armenian generations following the genocide have been able to accomplish despite the memories and hardships of our ancestors." continued Moloyan.